"Immensely grateful" for screening film, producer tells Faculty
05 Dec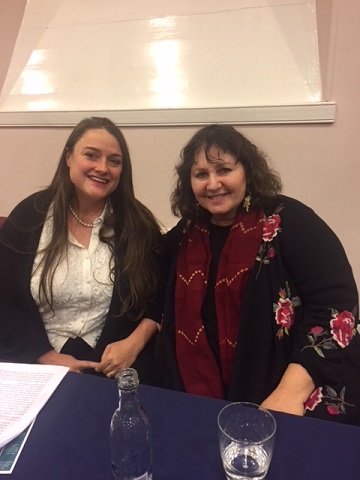 THE award-winning film producer/director, Leslee Udwin, has thanked the Faculty for a special screening of her controversial documentary, India's Daughter.
The film tells of the gang rape and murder of a medical student in Delhi. The woman had been targeted because she was out after dark with a male friend.
Ms Udwin was invited by the Faculty to attend a screening of the film at the launch of a new Faculty policy on bullying and harassment. She also discussed her life and career, in conversation with Anna Poole, QC, and took questions from an audience which initially, like others the world over, had been stunned into silence by the issues raised in India's Daughter.
"I am really honoured to have had the film screened here in Edinburgh with an incredibly attentive, engaged and enlightened audience," said Ms Udwin.
"I am immensely grateful to the Faculty of Advocates for having afforded the opportunity for the film to be seen, and, more importantly, for discussion of the change that the film demands."
The Dean of Faculty, Gordon Jackson, QC, introduced the bullying and harassment policy. He thanked the Faculty's Equality and Diversity Committee, chaired by David Stephenson, QC, for its work.
"The committee has been very active and very hard-working, and has consulted with people in this country and in other countries to come up with a range of policies, of which the bullying and harassment policy is the first," said Mr Jackson.
"These are changed days. When I was a young advocate, if you went to complain about bullying, you would be told it was character building. There is now not the same attitude as there was then, and the change in attitude is entirely a good thing. The idea you should tolerate bullying or harassment is just not acceptable.
"Nobody is trying to take away humour and banter, but everyone knows when humour and banter becomes something different, and if there are occasions when that happens, then people can be assured that we will have procedures in place to deal with it.
"Everybody is entitled to be treated with dignity and respect, and to be spoken to in a way that is appropriate."