Stephen O'Rourke QC named principal crown counsel
10 Sep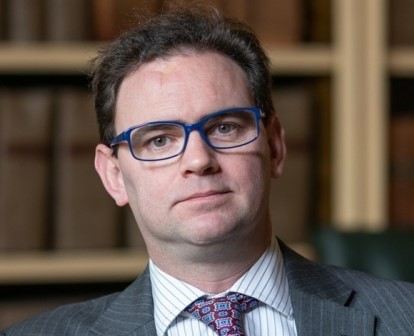 Stephen O'Rourke QC, Keeper of the Advocates Library, has been appointed principal crown counsel, replacing Alex Prentice QC.
He will take up the appointment in October.
Mr O'Rourke, whose seniority is immediately below that of the lord advocate and solicitor general, will head up the advocate depute team.
He studied law at Edinburgh and Bologna Universities and had a mixed practice at the bar. He is a member of the Institute of Chartered Arbitrators and is also an author – his novel The Crown Agent was published in 2019. Mr O'Rourke served as an advocate depute from 2010 to 2013.
From 2013 to 2017 he was a standing junior counsel to the advocate general for Scotland. He took silk in 2017.
The Lord Advocate, Dorothy Bain QC, said: "Stephen is well established at the senior bar with a wealth of experience across criminal law as well as acting for government, commercial and private clients. Stephen joins us from the Faculty of Advocates and I am confident his work on civil liberties, public and administrative law as well as his strong leadership qualities will set him up for success in his new role."
In recognition of his high professional standing, a new role has been established for Mr Prentice, who is now senior trial counsel. He will also become the Crown Office's first director of advocate depute training.
"I would like to thank Alex for his distinguished service as principal crown counsel for the last 10 years. Throughout all of this time Alex has provided support and guidance to the team of advocate deputes and successfully conducted many high profile and complex criminal trials and appeals," said Ms Bain.
"Of the significant cases he has prosecuted with outstanding skill and dedication, of which there are simply too many to list here, I would wish to highlight the shotgun murder at the Marmion public house in Edinburgh, the murder of Surjit Singh Chokkhar, the murder of Suzanne Pilley and the retrial in the murder of Arlene Fraser. He was also responsible for the conduct of the very challenging and complex trial of Rachel Fee and Nyomi Fee who were convicted of the murder of their son Liam and led the successful prosecution of former MSP Tommy Sheridan for perjury."
Richard Goddard QC will become assistant principal crown counsel, succeeding Jane Farquharson QC, following her appointment as a Sheriff.
This article first appeared in Scottish Legal News