View the 'Us Too?' webinar
08 Jun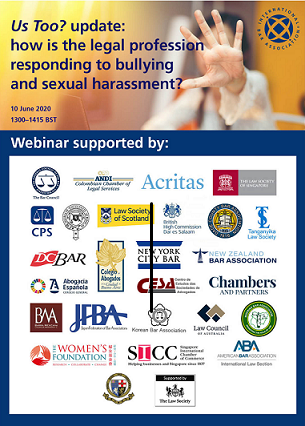 MEMBERS of Faculty joined colleagues in the global legal community for a webinar about bullying and harassment in the workplace.
A year ago, the International Bar Association published a report, Us Too? Bullying and Sexual Harassment in the Legal Profession, which was based on a survey of 7,000 legal professionals in 135 countries.
The IBA is now asking what progress has been made, and the webinar featured the author of the report, Kieran Pender, as he reflected on the IBA's "Us Too?" campaign. It has organised events in more than 30 cities around the world.
Also, a panel discussed developments in the past 12 months, and what might be expected in the years ahead.
The webinar, supported by the Faculty, can be viewed at https://www.ibanet.org/Us-Too-Webinar.aspx