Pegasus Trust visitors thrilled to take in Faculty
17 Nov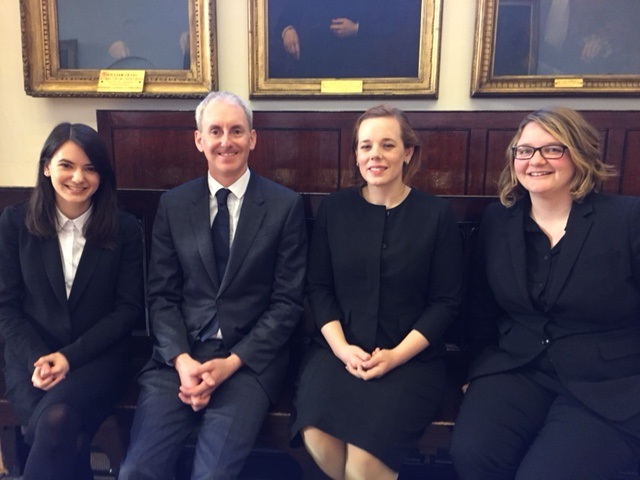 YOUNG lawyers from New Zealand and the United States took in a tour of the Faculty during the Scottish leg of a UK visit, and were not disappointed.
Susie Shaw and Shaun Brookes, from New Zealand, and Devon Slovensky, of Virginia, and Scarlet Smith, of Utah, were part of the Pegasus scholarship scheme. It was founded in 1987 by Lord Goff of Chieveley to build bridges between countries operating the common law system, and is supported by the four Inns of Court in London.
The Pegasus Trust has incoming and outgoing scholarships, and, in Lord Goff's words, "makes it possible for gifted young lawyers  - the future leaders of their professions - to learn about the practical working of the common law system in countries other than their own, and to form enduring links with lawyers in those countries."
Incoming Pegasus scholars are based in London for three months, and they also visit the Faculty and the High Court in Belfast.
Scarlet Smith said:  "It is precisely opportunities like this – visiting the Faculty of Advocates – that makes the Pegasus scholarship a once-in-a-lifetime opportunity. We visited the Faculty on the last day of our scheme and we each agreed enthusiastically that best was saved for last. We were greeted with a very warm welcome and generous Scottish hospitality.
"It was amazing to see the hall (Parliament Hall) that has not changed in hundreds of years and watch as the advocates paced up and down discussing their cases.
"Although she was obviously a busy person, the Clerk of Faculty, Kirsty Hood, QC, generously spent time with us discussing the Faculty, Scottish law, and current events. It was certainly a highlight of my Pegasus scholarship. We found that although our legal systems are different on the most basic levels, the underlying principles and values are much the same. "