A dramatic success for JUSTICE Scotland
27 Nov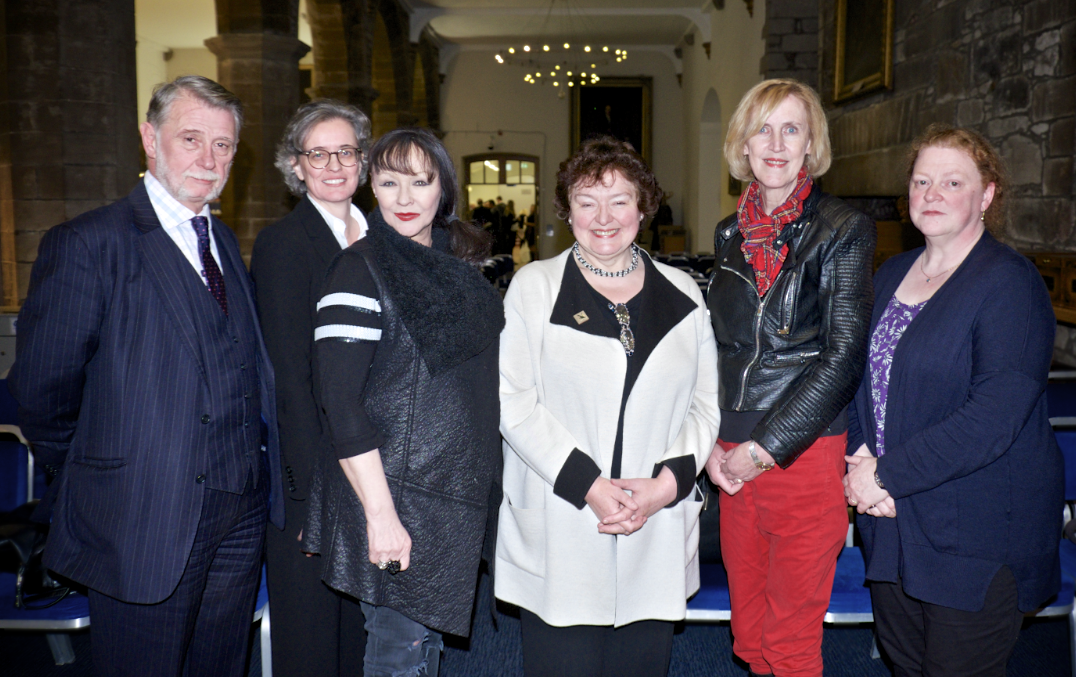 EXPECTATIONS had been high, but they were met - and then some - as JUSTICE Scotland brought together a panel of leading lights to explore the portrayal of crime, law and forensic science in fiction and drama.
The event, proudly hosted by the Faculty, was part of a series, Beyond Law, and the audience at "Law and the Arts" was hooked on the thoughts of Lin Anderson, the crime fiction author, Frances Barber, the actress who played Caroline Warwick, QC, in the BBC series Silk, Professor Sue Black, the forensic anthropologist, and Donald Findlay, QC, the leading criminal lawyer.
Joyce McMillan, columnist and theatre critic for The Scotsman, proved to be a perfect Chair for drawing informed and informative contributions from the panellists.
Lin Anderson said she believed strongly that it was very important "to get things right" in her writing.
"I can only do that if I talk to the right people. Crime writers in Scotland find it wonderful the way Police Scotland and experts in the fields will answer our questions. They tell us what we want to know. We are very fortunate in the help we are given," she said.
Frances Barber spoke of the heavy constraints on a 60-minute television show, which might be as little 43 minutes with commercial breaks, and contended that some dramatic licence was justified.
"We need a beginning, a middle and an end in that time, and we want the good guy to win and the bad guy not to," she said.
"The tension has got to build up so we erase things from courts in real life, like the CCTV breaking down or the fact that the prosecution and defence lawyers know already what the witnesses are going to say."
Donald Findlay believed that for many people, the line between reality and fiction was easily blurred.
"People watch these television dramas and think that that is the way the justice system operates, but we have to remind ourselves it is drama, it is fiction, it is entertainment," he said.
"It is a real concern among defence lawyers like me that people come into court with a perception that what they see on television is reality."
Sue Black said there was an expectation among the public, built particularly on US television dramas, that when forensic scientists came into court to give evidence, that was when things "get interesting and cool". However, the reality for her and many colleagues was that the witness box could be a very uncomfortable place.
"People may not like it, but science is not black and white...we (scientists) like probabilities, we like statistics, we like likelihoods. We have to try to communicate it in a way that people do not switch off."
Shelagh McCall, QC, Chair of JUSTICE Scotland, was delighted by the success of the evening, and believed Donald Findlay's admission of an affinity with Rumpole of the Bailey would be long remembered.
"I want to thank Lin Anderson, Frances Barber, Sue Black and Donald Findlay for their entertaining contributions. And, of course, Joyce McMillan for her excellent chairing. With Beyond Law, we hope to engage people in good conversations about law and its place in the wider world, so it was great to see such a full house. We are grateful to the Faculty for its ongoing support for JUSTICE Scotland," she said.