What kindness has been shown to you?
18 May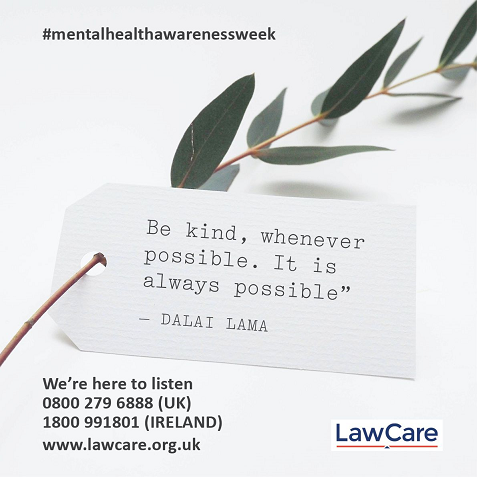 ADVOCATES are being urged to share moments of kindness which have been shown to them in their career, as part of Mental Health Awareness Week.
Kindness is the theme of the week (18-24 May) and the LawCare charity says one of the greatest ways to demonstrate kindness is by helping others.
"Civility is contagious, and more kindness in the law will make the profession a happier and healthier place to work," said Trish McLellan, LawCare's co-ordinator for Scotland and Northern Ireland.
"We are encouraging people to use social media to share moments in their legal career when someone showed them kindness, tagging @LawCareLtd and using #momentofkindness."
The Faculty is a supporter of LawCare, which promotes good mental health and wellbeing in the legal community in the UK and Ireland. It operates a free confidential helpline, and email and webchat support are also available. Details, and special advice for the coronavirus emergency, here
Richard Pugh, Clerk of Faculty, said: "The last few weeks have provided a stark illustration of the challenges which we face to maintain good mental health. They have also shown us that having support structures to maintain our wellbeing is vital.
"Mental Health Awareness Week provides an opportunity for all of us to reflect and to take steps to help both ourselves and each other through the current situation and beyond. We are thankful that LawCare is always on hand to help us in that challenge."