Pain and gain for charity cycling QC
04 May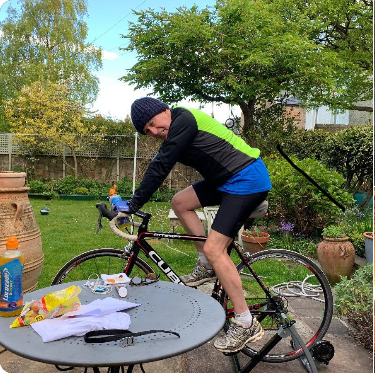 A SENIOR member of Faculty has been left "exhausted but elated" after completing a 200-mile charity cycle run in his back garden.
Peter Gray, QC, raised more than £5,600 in the static cyclathon for the National Bereavement Partnership COVID-19 Hub.
He had set himself a target of 200 miles within 24 hours, but managed it in just under 18 hours, while discovering parts of the body he hadn't known existed!
"All the magic lotions and potions recommended by friends were used liberally," said Peter, who kept spirits high by watching Scottish classic rugby.
It was 11:30pm when a heavy-legged but exhilarated Peter clocked up the 200 miles.
"Exhausted but elated," he said.
"Thank you so much to everyone for their donations and support; it made it all worthwhile and a wonderful experience for such a fantastic cause."
The National Bereavement Partnership COVID-19 Hub provides a helpline for those who need to speak to someone when loved ones may be ill in hospital or have died from COVID-19. Through its support, the Hub aims to prevent and alleviate the mental impact and distress caused by the disease, directly or indirectly. Details here
Donations can still be made to Peter here