Solved: Mystery of advocate's wig
13 Sep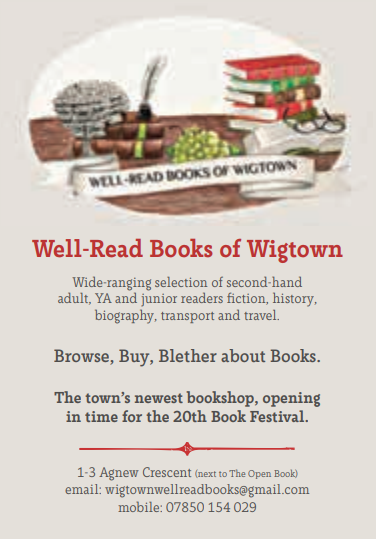 AN advert in the programme for the Wigtown Book Festival has thrown up its own bit of mystery, in the shape of an advocate's wig.
The illustration for Well-Read Books of Wigtown, proclaimed as the town's newest bookshop, features the wig and a bunch of grapes.
Locals will tell you the fruit signifies that the shop occupies the site of a former pub, The Grapes. But the wig? It is a clue to the shopkeeper: Ruth Anderson, QC, retired sheriff and former leading criminal defence counsel.
"When I left university in the 60s with an arts degree, I thought about librarianship or working in a bookshop. Somehow, I then found myself studying law," says Ruth.
"For 40 plus years, I had a varied, interesting and often hilarious life as a lawyer. When I retired last year, I joined the board of Wigtown Festival Company, and soon realised I wanted to open my own bookshop in the town. So, here I am, at the age of 71, embarking on a new career."
The festival runs from 21 to 30 September, and the Faculty is delighted to support one of the events, in which Stuart Kelly discusses his book, The Minister and the Murderer, about a convicted killer's ordination. It is on Friday, 21 September, at 6:30pm. The full programme is here