SANTA ON TRIAL! How the devil has this happened?
29 Nov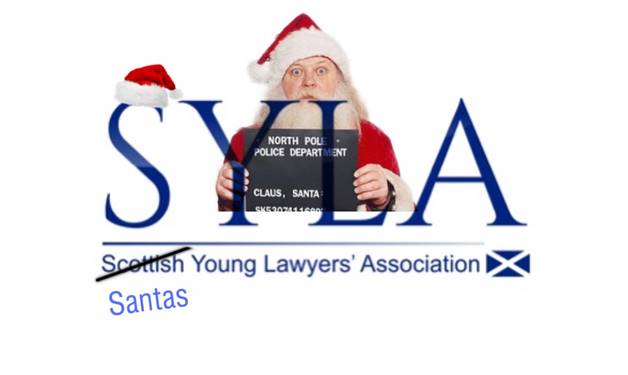 CALL the diet – Her Majesty's Advocate against Santa Claus. Are you Santa Claus? You look suspiciously like Gordon Jackson, QC, Dean of the Faculty of Advocates. No matter. Take a seat, please.
For the benefit of the ladies and gentlemen of the jury, I will introduce our main characters:  they may already recognise Donald Findlay, QC, who will be defending the pannel and who is assisted by Cameron Smith and Adam Black, a couple of real devils. The prosecution is led by Roddy Dunlop, QC, and he also has a pair of devils with him, Chris Miller and Nicholas McAndrew.
I think it should be made clear at the outset that Mr Dunlop has not personally chosen to put Christmas at risk for children all over the world by putting Mr Claus in the dock, and at this time of the year as well. He is merely performing a public duty. So, the court will not tolerate repeated booing and hissing each time he rises to his feet. The same goes for the key prosecution witness, Twinkle Toes, aka Antonia Welsh, another of those devils who seem to be everywhere.
The indictment contains a number of charges, alleging breaches by Mr Claus of the Elf and Safety (Scotland) Act, the Festive Dishonesty Act and the Sleigh Flying (Scotland) Act.
Some people might see this trial as festive entertainment disguised as an educational and informative demonstration of advocacy skills, presented by the Scottish Young Lawyers' Association in cahoots with this year's intake of devils from the Faculty of Advocates.
But for the ladies and gentlemen of the jury (more devils), here at the International Christmas Court, it is a serious business, and they must not let emotion or sympathy play any part in their deliberations – and they must put out of their minds any thoughts of tearful children waking up on Christmas morning to empty stockings.
They should concentrate, instead, on thinking how much the trial, in the Faculty's Laigh Hall at 6:30pm on Tuesday, 17 December, can raise for the Edinburgh Children's Hospital Charity, with tickets, £5.98 and £16.76, and details here