Diversity 'not a tick box but a necessity', Justice Secretary tells Faculty/SEMLA event
15 Nov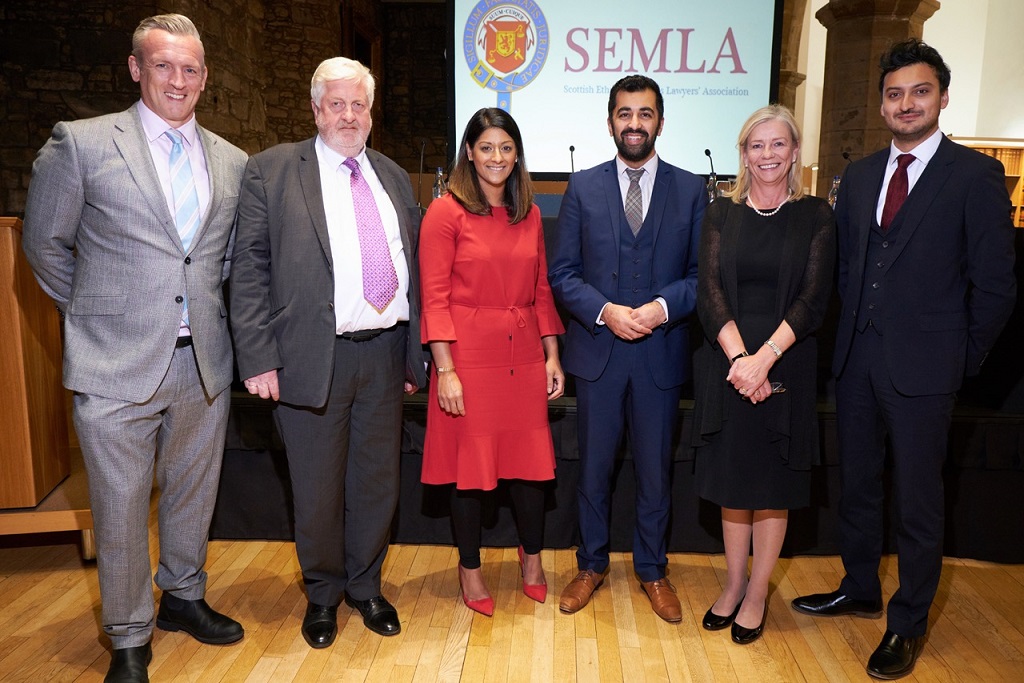 TWO "innovative initiatives" involving the Faculty and aimed at a more diverse and representative legal profession have been endorsed by Humza Yousaf, Scotland's Cabinet Secretary for Justice.
Mr Yousaf was the keynote speaker at an event to celebrate the first anniversary of the Scottish Ethnic Minorities Lawyers Association (SEMLA) and the official launch of the Faculty's Lord Hope of Craighead Scholarship.
SEMLA was established last year with the support of the Faculty and the Law Society of Scotland.
The scholarship, named after one of the Faculty's most celebrated figures, is funded by a voluntary levy on the earnings of practising members of Faculty. Aimed primarily at assisting devils - trainee advocates - during their nine-month training period, it also helps people into the wider legal profession.
Mr Yousaf said: "These two innovative initiatives aim to help the profession become more reflective of the clients and communities it serves by increasing the representation of ethnic minority lawyers across Scotland's legal sector, and improving accessibility to the Bar for those who might otherwise be dissuaded due to the costs of pursuing that path.
"A career in law should be open to all groups and all backgrounds to ensure the legal profession - and Scotland - benefits from their ideas, their talents and their potential to provide access to justice for all. Diversity is not a tick box, not something that is 'nice to do'; it is a necessity."
95 PER CENT TAKE-UP
After learning that 95 per cent of practising advocates had signed up to fund the scholarship, Mr Yousaf commented: "It is heartening to see how important diversity is to members. I look forward to learning more about the work that SEMLA has been undertaking and how its future plans, along with the Faculty's new scholarship, can achieve our collective ambitions for a truly diverse, representative legal profession for Scotland."
Gordon Jackson, QC, Dean of Faculty, said that whatever the position in the past, actual or perceived, the message now from the Faculty was: "We say to people who have the ability, desire and drive - It does not matter your gender, your colour or your social background, you are welcome."
The Faculty's Treasurer, Roddy Dunlop, QC, a driving force behind the scholarship, revealed that the first batch of awards had been made. Whereas two or three scholarships were awarded in previous years, with the addition of the new scheme, the number for October 2019 was 11.
"The vast majority will be going to candidates who are female, or state educated or from ethnic minority backgrounds," said Mr Dunlop.
"Faculty is there to serve the people of Scotland. All of the people of Scotland. And in so doing we need to be able to draw from the most talented legal minds in Scotland - whatever may be their race, religion, gender, sexuality or social background."
The audience in the Laigh Hall also heard from Usman Tariq, Advocate, founder of SEMLA, who said its aim of increasing the representation of ethnic minority lawyers would be achieved by collaborating with the profession to "open doors".
He added: "The legal profession should reflect the diversity of society as a whole. Lawyers drawn from a wide range of backgrounds and life experiences will bring varying perspectives to bear on critical legal issues. A legal profession and judiciary which is visibly more reflective of society will enhance public confidence in the profession and the rule of law."
HUMBLING
Further talks were given by Naeema Sajid, a founding member of SEMLA, and Christine McLintock, Chair of the Lawscot Foundation, a charity set up by the Law Society of Scotland to help academically talented students from less advantaged backgrounds through their legal education. It has already benefited from a donation from the Lord Hope Scholarship.
Ms Sajid said there had been no role models when she qualified, but that was now changing, and awareness of SEMLA in its first year had grown at "an alarming pace".
Ms McLintock said that reading applications received by the Lawscot Foundation, and seeing the challenges faced and overcome by people and their determination to become lawyers, was "very humbling".