"Fantastic" conference launches PI arbitration service
02 Oct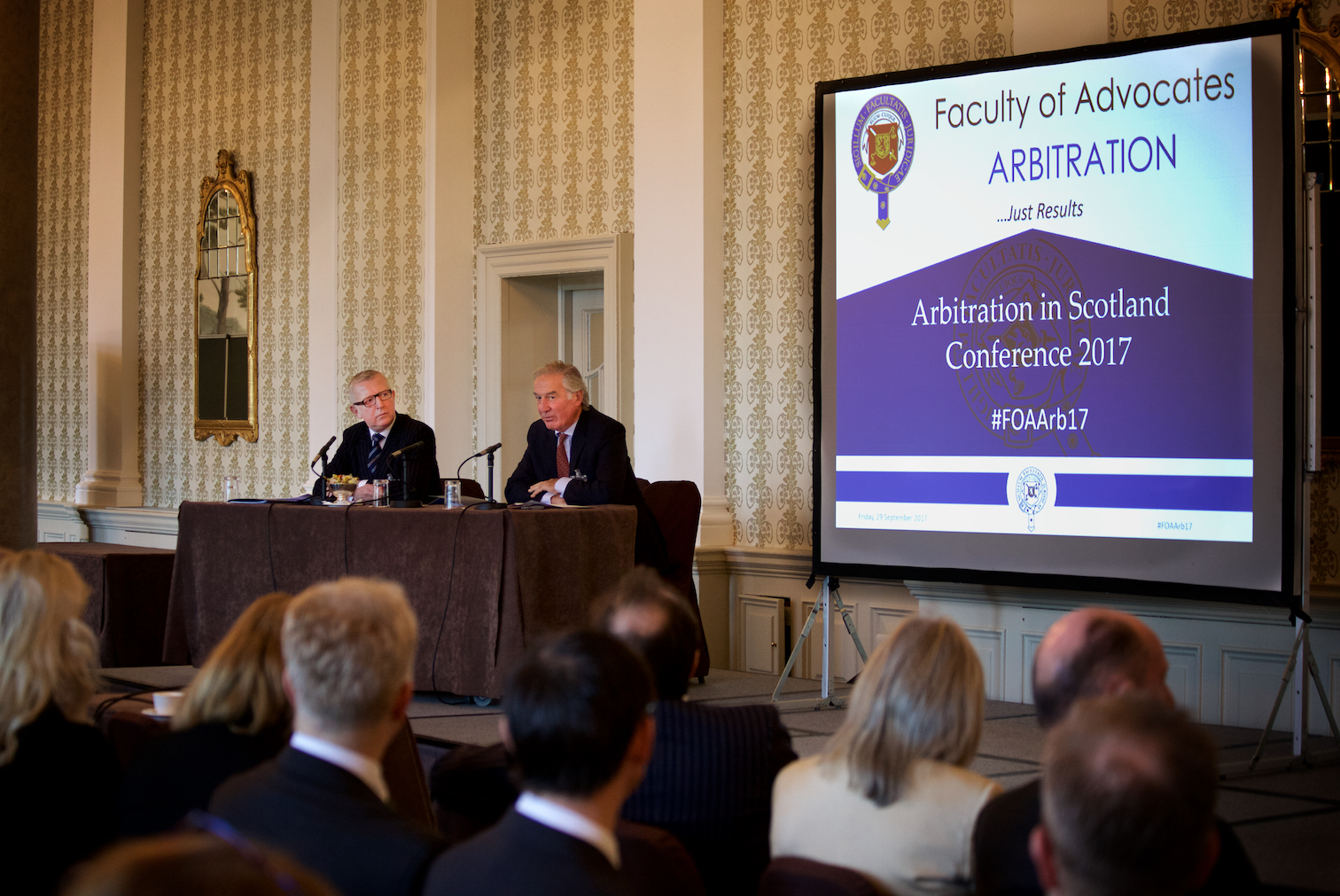 A "FANTASTIC" conference has ushered in the Faculty's new, innovative personal injury arbitration service.
The two-day event, Arbitration in Scotland – Just Results, drew a host of expert speakers from Scotland as well as from London, Sweden and Switzerland.
They included the Inner House judge and chair of the newly-established Arbitration Court User Group, Lord Glennie, and former Lords President, Lord Hope and Lord Hamilton.
For some time, the Faculty has operated an arbitration facility in areas as diverse as family and agricultural law. Now, personal injury has been added to the service. Users of arbitration cite many benefits such as speed, economy, choice of forum and decision makers, and confidentiality.
In the conference's Keynote Lecture, Lord Glennie said: "I would like to congratulate the Faculty for holding this event and pushing greater involvement of the Faculty and its members in arbitration in personal injury work and across the board."
Lord Glennie highlighted the limited role of the courts in arbitration – there had been a mere ten challenges to awards in Scotland and only one of those had succeeded on the merits – but warned that "the courts will not back off if the arbitration is rubbish."
"All the changes will count for nothing unless there is a body of capable arbitrators with the confidence to conduct arbitrations effectively and command the confidence of potential users of arbitration," he said.
"That is why the initiative of the Faculty in training arbitrators and training counsel in arbitration is so important. Practitioners can make great arbitrators."
Professor David Parratt, QC, Convenor of Faculty of Advocates Arbitration, said: "The conference has been a great success, and is the culmination and consolidation in all FOA Arbitration has been seeking to do to raise the profile of arbitration in Scotland and beyond.
"The breadth and depth of the talks was commended by many, and contributions from internationally renowned arbitrators on Scotland's future arbitral path was highly considered."
Praise for the conference came from many of those who attended.
Derek Auchie, a Senior Teaching Fellow at Aberdeen University School of Law, commented: "Many congratulations on a fantastic conference. Almost all of the slots were superb with highly relevant, practical and interesting content. I detected a strong motivation to see that clients deserve a better service and decent access to justice."
Richard Farndale, Chairman, Chartered Institute of Arbitrators Scottish Branch, described it as a "really exciting conference" and added: I just think what you are doing is so positive. You're taking a flexible model and moulding it to fit new disciplines in exactly the way arbitration is intended. And there is such enthusiasm behind it now."