We need to be pro-active to remain a world leader, says Sir Geoffrey Vos
21 Jun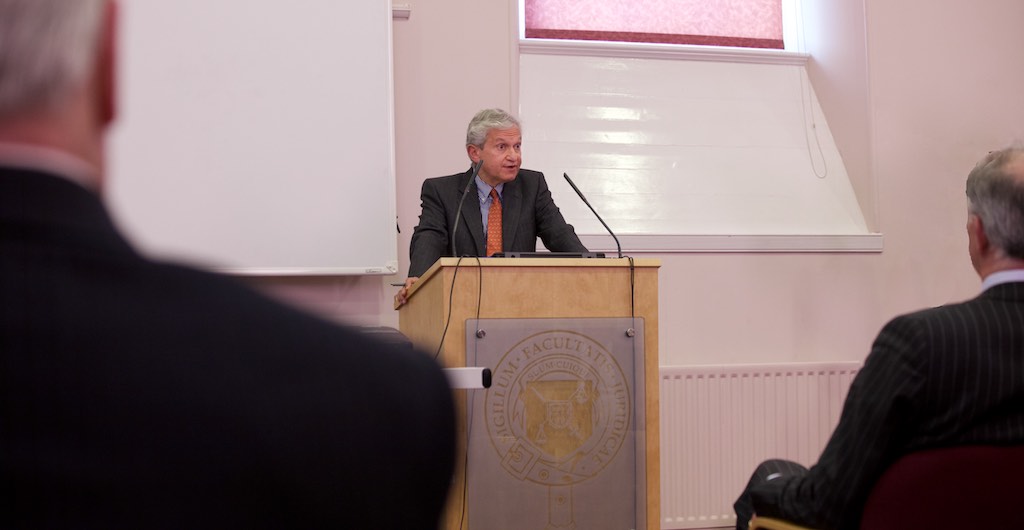 MEMBERS of Faculty have enjoyed an illuminating and thought-provoking lecture by one of the foremost figures of the English judiciary, Sir Geoffrey Vos, Chancellor of the High Court.
In his talk, "The UK Jurisdictions After 2019", Sir Geoffrey spoke of the seismic change to the juridical landscape as a result of Brexit.
He pointed out that jurisdictions such as New York, Germany, Netherlands, France and Singapore were keen to attract commercial business away from the UK.
"Many competing jurisdictions are throwing a great deal of money at the problem and setting up new commercial and business courts with magnificent facilities. If one were a cynic, one might think that some of them were hoping to capitalise on the uncertainties created by Brexit," he added.
Sir Geoffrey believed that the independence of the judiciary was a unique selling point (USP) of the UK.
"There are actually not many countries in the world that can genuinely profess to have a judiciary free from all corruption, and of absolute and undoubted integrity. Fortunately, we can say that in our three UK jurisdictions almost without fear of contradiction," he stated.
Professional services were another USP.
"The UK punches far above its weight in terms of commercial legal services…once a UK lawyer is instructed on an international project, there is a significantly greater chance that UK accountants, engineers, architects and actuaries will also be instructed. It remains crucial that we lead the world in legal services post-Brexit. Professional services are another USP for the UK and we will undervalue that USP at our peril," said Sir Geoffrey.
Turning to alternative dispute resolution (ADR), Sir Geoffrey said it was another area where we could not stand still.
"ADR is a vast subject, but it will have a serious bearing on the attractiveness of the UK as a jurisdiction of choice post-Brexit. We are capable of offering state of the art ADR and ODR (online dispute resolution) processes and we must do so if we are to stay at the leading edge of international dispute resolution.
"I hazard that ADR providers and experts need to be rather more connected with the providers of court-based dispute resolution. The two must work together, so that consumers and commercial people have the right choices that cater to all their needs.
"Ultimately, ADR, too, is a critical part of an independent justice system – once again, a piece in the jigsaw that is required if overseas investors are to have the confidence to invest in post-Brexit Britain.
"We cannot just rest on our laurels and hope that the international business community will be prepared to take a chance on the UK's legal systems. We need to be pro-active and we need to be prepared to take active steps to improve our offering if the clarion call that Britain is open for business post-Brexit is going to be taken seriously."
The lecture is here