From memo to Myanmar...
15 Jan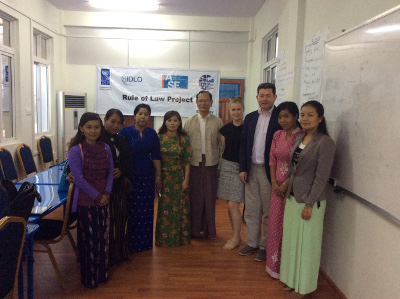 A member of Faculty has spent three weeks in the Southeast Asian country of Myanmar after volunteering to help in the restoration of its "parlous" legal system.
Denis Edwards spotted an appeal by the charity Avocats Sans Frontieres (ASF) in the Faculty's weekly email memo to members and staff, and is delighted he grasped the opportunity.
He was one of six foreign lawyers who gave pro bono training to local judges, lawyers and civil society representatives in Mandalay, Myanmar's second largest city, as part of a rule of law mission sponsored by the United Nations Development Programme.
"It was great to participate in this programme so soon after Myanmar has opened its doors to foreign aid," said Mr Edwards, adding: "It is only thanks to the weekly memo, which informs us about such possibilities, that I learned that ASF wished foreign lawyers to be part of the mission."
Links between ASF and the Faculty have been forged through the Faculty's Free Legal Services Unit, and in recent times, Mungo Bovey, QC, and John Hamilton, QC, have made separate visits to Uganda through ASF to help train local lawyers.
Mr Edwards said the rule of law training in Myanmar (Burma) was supported by both the Myanmar Government and the National League for Democracy, the party of Aung San Suu Kyi.
"Myanmar had been closed off from the rest of the world for more than 50 years, one consequence of which is that its legal system, which is based on the common law, is in a parlous state," he added.
"The new government has committed to improving the country's legal system and investing in legal education. The rule of law training focuses on key rule of law principles and includes sessions on the values of the rule of law, professional ethics, the law of evidence, administrative law, civil and criminal procedure and alternative dispute resolution.
"If the country is to achieve its economic potential while at the same time guaranteeing respect for equality and human rights, it needs a government and a legal system which are committed to the rule of law and which respect international standards on the rule of law."
Mr Edwards, of Terra Firma Chambers, who also practises at the English Bar, continued: "Myanmar is a very diverse nation with several large ethnic groups, some of which continue to be in conflict with the government in Yangon.
"One purpose of the rule of law training is to introduce Myanmar lawyers to best practice, so that they have the tools to rebuild their legal system for the benefit of all Myanmar's people."
James Wolffe, QC, Dean of Faculty, commented: "The work of advocates is fundamental to maintaining the rule of law at home. As Denis Edwards' experience shows, advocates can also play a worthwhile part in helping to develop and support the rule of law in other countries."
Mungo Bovey, QC, FLSU convenor, said: "I am pleased to see the overseas outreach of our pro bono unit in operation and delighted to learn of the valuable contribution Denis has made in Myanmar."
Our picture shows Denis Edwards, third from the right, at the training room in Myanmar.